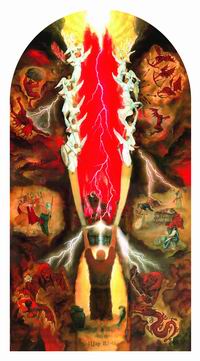 Saint Elijah
(IX. cent. before Christ)
Explanation of icon
A prophet, fighter for purity of faith against the spread of idolatry, occultism - so-called negative energies.
On the sides there are Baal's servants invoking false deities.
A spiritual encounter on the mount of Carmel began - the fire came down from heaven (1Kings 18:1-46).
Fight even you for a return of your nation to the true God, as the prophet Elijah did!
Prayer
Lord Jesus Christ, I renounce all unclean spirits which passed on me through spiritism, channeling, hypnosis, homoeopathy, acupuncture, reiki, traditional healers, psychotronics and diviners, through horoscopes, yoga, zen, non-Christian meditation, martial arts, reading of pseudospiritual literature (of chacras, mantra, reincarnation…), through listening to rock and heavy-metal music…
Lord Jesus, purify my soul, give me zealousness in the prayer for Your kingdom, and the spirit of true repentance. Amen.
GOLGOTHA - AN INTRODUCTION TO INTERIOR PRAYER
In this hard time of the crisis of the Church we give the religious, the students of theology as well as the priests four one-hour models of interior prayer at their disposal. They contain the most essential truths related to our salvation and to our unity with Jesus.

GOLGOTHA - AN INTRODUCTION TO INTERIOR PRAYER (24.6.2007)

---
FOUR WORDS FROM UKRAINE

First word: ONE HOUR WITH JESUS

Second word: A CRITIQUE ON THE HCT (Historic-critical theology)

Third word: PAGAN RELIGIONS

Fourth word: THE FIRST COMMANDMENT

FOUR WORDS FROM UKRAINE (whole book)